Get upgraded your Navision to latest version from Microsoft: Microsoft Dynamics NAV 2
Maybe it's time for an upgrade of your enterprise solution for latest ERP solution from Microsoft? VisionPeople has decades of experience with the upgrade project and we will lead you safely through the process.
With the release of Microsoft Dynamics NAV business solution, you can access NAV 2016 by the use of PC, iPads, smartphones, etc. - and the solution can be installed on your own server or hosted "in the cloud" at Microsoft. You decide!
Read more about all the possibilities, the new functionality and intuitive user interface, as Dynamics NAV 2016 gives your business here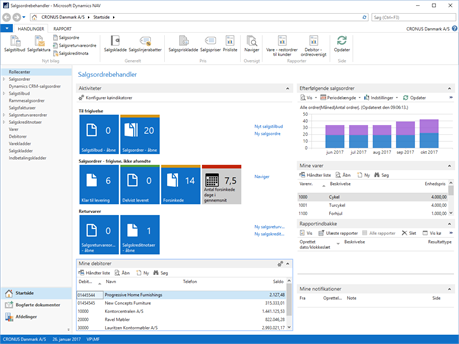 Contact VisionPeople by phone at +45 7023 3200 to hear more about the aforementioned and VisionPeople's experience with implementations of enterprise solutions and value-added solutions for this purpose.
Contact VisionPeople