Microsoft Dynamics NAV (Navision)
Dynamics NAV is Microsoft's most widely used ERP system in the world for mid-sized and small businesses.
Microsoft Dynamics NAV is ideal for companies with complex business processes and a strong industry focus in fx trading, production and service.
Microsoft Dynamics NAV is Microsoft's integrated business solution for medium-sized and small businesses. Typically from 5 to 500 employees and with between 2 and 100 users. The solution is implemented for more than 100,000 companies in the world and is used by about 1.5 million. users. Microsoft Dynamics NAV supported globally by Microsoft partners and solution supports more than 120 local language.
The solution is easy to use and maintain, and designed to increase productivity, customer satisfaction and service levels.
Microsoft Dynamics NAV business covers the following areas: 
production
supply chain management
Workspace collaboration
HR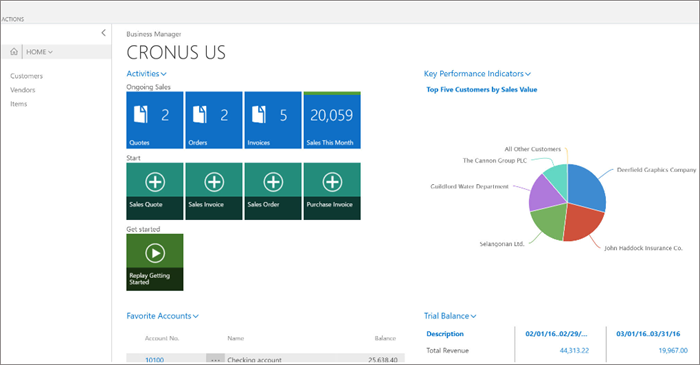 Microsoft Dynamics NAV can easily be adapted to the individual company and therefore gives the possibility of a solution that addresses the individual needs and gives the freedom to focus on your business. Microsoft Dynamics NAV allows staff to quickly and easily click through to details on everything from production schedules and inventory lists for sales orders and marketing campaigns-all in a single, secure database. Information that is put into one part of the application will be available in other areas at the same time, so you can optimize your business processes and elevate the knowledge within the company.
Microsoft Dynamics NAV 2017 represents an unsurpassed collection of functionalities, where you can collect, organize, share and control your critical business data across the enterprise, as well as partners and customers.
Discover even Dynamics NAV on the surrounding links with more concrete information about Dynamics NAV or contact us if you would like our free advice about the right solution for you.
Contact us