Dynamics NAV 2016 is released from Microsoft with a lot of new cool stuff
Microsoft has lifted the new Dynamics NAV 2016 to an even higher level - and Dynamics NAV 2016 is now really integrated to the other Microsoft products and Technologies.
The user experience is even more intuitive and easy to get started with: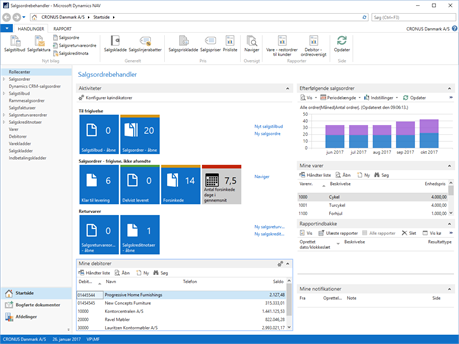 Dynamics NAV 2016 works on all platforms:

PC
Tablets or iPads
Web Clients
Smart Phones!                           

                                        
so no matter what device you are using, Dynamics NAV 2016 adapts to the relevant device.
Dynamics NAV 2016 is "In Office and on Azure", which gives you the following advantages:
There are so many new things in Dynamics NAV 2016, so it is hard to mention it all, but underneath we have listed some om the main areas:
integration to other Microsoft products, and now also Microsoft Dynamics CRM
*Extensions", which gives you the ability to access other applications directly from Dynamics NAV
Test Automation Suite - faster test processes when implementing new functionality
Universal App - gives access to Dynamics NAV from all devices (mobile phones, iPad etc.)
Heavy optimizations and extension of functionality in the web client for Dynamics NAV 2016
Enhanced processes and workflows, e.g. in regards to finance, approval processes etc.
OCR recognition and automation of created purchase invoices
Electronic invoice flow (please also see VisionOIO)
Better workflow and processes to e.g. invoice approval
Better control with pre-bookkeeping
Delay of postings
Notifications, flow to notify colleagues in regards to documents in Dynamics NAV
Full integrated Power-BI - have your specific KPI's developed.
The list is long, so why don't you join us at our seminar at VisionPeople, where we will run you through Dynamics NAV 2016 and all the new, smart features - and you can have a dialogue with our consultants about, how we can implement Dynamics NAV 2016 with your company.
Contact us