Customer Relationship Management
Take control of the company's communication with collaborators and an overview of the company's processes
Find, attract, retain and service the right customers and track your relationships, so they create the greatest possible value! Get a CRM system that provides access to the necessary information - also through Office 365, Sharepoint and Delve, so you can focus on the valuable customers - not just today, but also in the future.
VisionPeople Consulting has extensive experience with implementation of CRM solutions that are integrated with the company's other systems, including the economic system. Either based on the CRM module in Microsoft Dynamics NAV (Navision) or Microsoft Dynamics Sales.
The CRM module in Microsoft Dynamics NAV is an integrated part of Microsoft Dynamics NAV and connects all critical business informations with the company's sales, marketing, and customer data.
Microsoft Dynamics 365 (Sales) are integrated to Microsoft Outlook in Office 365, Sharepoint, Delve and includes, among other things; handling of issues and opportunities, a complete overview of the customer's history, automatic handling of service reports, a searchable knowledge base and campaign management. Microsoft CRM also includes reporting tools that makes it possible to carry out precise forecasts and measurements on activity level and efficiency. VisionPeople Consulting has developed the VisionCRM Connector which easily and simply connects Microsoft Dynamics Sales with Microsoft Dynamics NAV. Thus to enjoy the best of both worlds!
Everyone knows that it is important to handle its customers in an optimal way, ranging from marketing, sales, service and support. It is therefore important to have a comprehensive overview of its customer data in order to get an optimal handling of the company's customer data and work with these.
The integration of customer data has been used in many contexts over many years, but increasing competition and the demands of the customers make greater and greater demands on the quality of customer data that goes from one system to another.
By implementing CRM with focus on Master Data management on customer data you will get:
A high data quality
Integrated customer data into a single system (Sales)
A full overview of your customer data – powerful reports and dashboards
Reduced costs
Minimized errors in customer data as duplicates
Optimized workflows.
Many companies work in many different systems, such as accounting systems, CRM systems, applications to internet sales etc., which increases the likelihood of incorrect data and duplicates. Duplicate detection is one of the major problems with the integration of customer data because a customer could be in multiple systems with different information. This could destroy the overview of your company's customer data.
VisionPeople will in the following outline, how to get business value by using Microsoft CRM in a future IT Enterprise architecture, where consolidated customer data, including customer affiliation, sale to many types of customers, etc. get larger and greater importance in order to achieve the sales target, keen customer restraint programs and additional sales to existing customers, as many companies are focused on.
CRM in "a modern Enterprise Architecture" 
When businesses in the future will upgrade or replace its ERP solutions - in order to continuous offering support and operation of a modern ERP solution and ongoing maintenance of the key elements of such a solution, It will be a completely different approach to the use of the ERP system, than we know today.
There will be a focus on the roles and processes rather than functions, as we know from the "old" ERP-solution. In this context, melts ERP, SCM, MRP, CRM and Web portals more and more together – that is why it makes perfect sense that early thinking CRM into this role/process approach to cover the sales, marketing and service needs in the short and long term.
CRM structure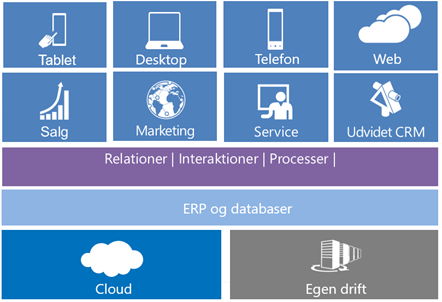 Integration between the various systems:
In order to be able to move and update data between the company's various systems, it requires that you know the various systems data model and has some great tools that can help to manage data - integration will here be very centrally.
There can be used many different methods and tools for integration between systems. It is important to use proven and standardized tools, since you must be able to continually upgrade these tools so that they can be used with the new versions coming for various databases and business applications, so you can constantly get its data flow to function – i.e. could work with its master data, for example; customer data without problems in everyday life. Another important parameter is that the chosen tools at any time must be able to be configured to move data between systems and not be encoded/developed as one, with too much code/development, can create unstable solutions, which are difficult for several persons to maintain, as only one or a few persons know the code.
VisionPeople has, on Microsoft technology, developed over many years and sold VisionCRMConnector used to gather data from Dynamics NAV in Dynamics Sales. Contact us here and get more information about CRM and integrations.
Contact us