Add-ons and integration solutions
VisionPeople Consulting A/S is a leader in integration between Microsoft Dynamics NAV (Navision) and Microsoft's other products (Office 365, Delve, Sharepoint, CMS and Mobile solutions
We create integrated solutions that are beyond the ordinary.
In addition, we develop a series of integration components, industry solutions and Add-on products, which are sold all over the world.
VisionPeople Consulting a/s is a Microsoft Gold Partner and, among other things, named the years Microsoft ISV Partner.
Our products meet the highest standards - and many of the products are certified by Microsoft for Microsoft Dynamics NAV: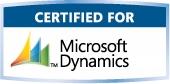 Read more about our Add-ons and integration solutions for Microsoft and Microsoft Dynamics NAV or contact us for an informal dialogue.


Contact us