Email your orders, invoices, quotes, etc. directly from the NAV.
With VisionPDF you can e-mail documents from Microsoft Dynamics NAV as attachments, and you can put text templates up to specific NAV-documents, so that the text in the mail will be prefilled.
You can send up to four documents at a time-in an easy and simple way. With a single tap on an email button in Microsoft Dynamics NAV will be your documents are automatically converted to a PDF file and Outlook opens with the pre-filled email address and document attached: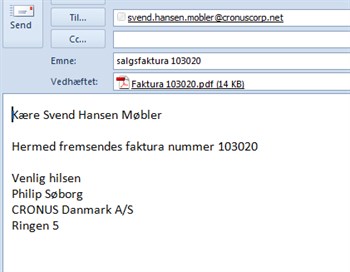 The e-mail message will be of course logged in both Microsoft Dynamics NAV and Outlook.
Download the entire VisionPDF product sheet here >>
Please contact us if you want to hear more about the possibilities with VisionPDF:
Contact us