Track and see your financials with few resources with a BI-system
You now have the opportunity to get a 100% up to date picture of all your company's financial transactions without having to spend a long time searching this information in multiple systems. Learn how VisionPeople can help you get this overview.
There are more and more data in businesses today and concepts like BIG DATA is often used for this increasing amount of different data. One thing is unstructured data such as; documents, e-mails etc., but also financial transactions increases data tremendously. VisionPeople collects all these data either in Dynamics NAV, Dynamics CRM or BI (Business Intelligence) tools, depending on the customer's situation.
Management reporting solutions can be built, so that users can find the right information at the right time and within reasonable time! People should have the information, when they need them, without having to search different systems for a long time. It is important that the data is valid and current, but above all available, therefore 'Data is King – Distribution is Everything ".
Many data sources in the company must be assembled in order to provide an overview:


Often management has access to all data, but it often requires a lot of work to find and group them - and here the BI system can help you by giving you the needed overview: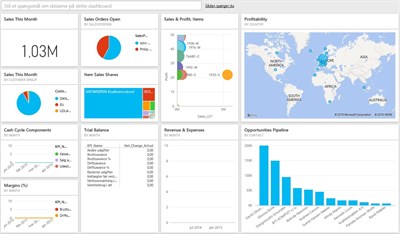 Challenges with many different systems:
Systems can be complicated and difficult to get information out of
Inefficiency and dissatisfied users
High administrative costs - must support many systems
Problems with Client Software Integration
Lacks the simplicity and full functionality
Costly introduction of employees
Missing customizations to the individual user
Access to information require several log-on's
Poor utilisation of investments in database/ERP systems.
Decision-making:
Duplication is expensive and can lead to wrong decisions
Much time is spend to retrieve information and create an overview
Forecast and historical information
Rapid integration of new departments and enterprises
Information and databases/ERP
Missing tools to gather and distribute data across the Organization in an easy way
Often lack a unified and known user interface.
At VisionPeople we have decades of experience helping large and small companies to get an overview and to find and deploy the right solutions, which gives management the needed information – where management need information to make the right business decisions.
We would also like to talk to you regarding your particular needs, please call us at +45 7023 3200 and arrange a conference call or contact us here:
Contact us