What is NAV (Microsoft Dynamics NAV)?
Microsoft Dynamics NAV (or in daily speech "Dynamics NAV") is Microsoft's business solution for small and medium-sized enterprises.
Dynamics NAV can help you if you have a newly created firm, or if your company is about to grow out of the current bookkeeping- or finance system. The solution is quick to deploy, easy to configure, simple to use, and VisionPeople can customize the user interface, add new functionality and integrate NAV to other systems. The functionality of NAV therefore covers everything you need to operate a successful business - and to make it grow.
As your company grows, NAV gives your company the flexibility to customize NAV to support you in regards to new opportunities and the growth of your company.
NAV offers a breakthrough user experience and technological advances that makes it easier to gain access to information, improve corporate flexibility, streamline integration with a wide range of systems and improve the reporting properties - even for the most specialized industries and organizations.
As NAV is a part of Microsoft's product range it is similar in appearance and structure of Microsoft Windows and Microsoft Office, and is therefore easy to learn, simple to use and fast to deploy: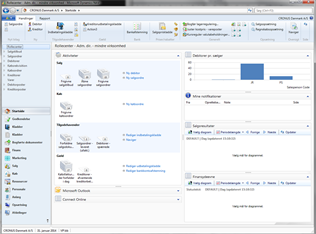 Microsoft Dynamics NAV consolidates and embeds information about finance, production, supply chain management, sales and marketing, project management, human resources and service management from the entire organization.
See more examples of screenshots of NAV here >>
Contact us for a detailed dialogue about your unique business needs in relation to a new business solution from Microsoft.
Contact us