Time tracking via the Internet-directly in Microsoft Dynamics NAV!
Now, employees can register their time (and possibly the absence) via the Web, so you avoid the manual time registration via work cards, etc.
VisionTime is an add-on for Microsoft Dynamics NAV,  designed for those industries where employees need to register their time consumption - generally or on projects in NAV: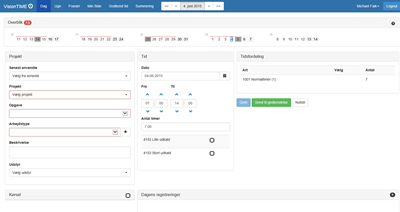 The solution can either stand alone or in combination with economy of systems such as Microsoft Dynamics NAV (also known as "Navision"), which provides additional opportunities for management and follow-up on projects, economy, etc.
All mobile workers in the field can expand with VisionTime option in an easy and simple way to make time registration, runtime reporting, etc. via the Internet directly in Microsoft Dynamics NAV and time recording can be made from PC, iPads/ tablets or from smartPhones (iPhone, etc.), which listed examples here: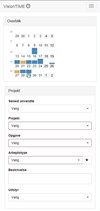 Access a demo of the solution HERE -so you can see how easy it can be to track time on cases in the NAV >> 
Employees can register time consumption per day or per week, and department managers or project managers also have the option to approve time records from the web.
The difficult integration between web and NAV is developed in the solution, and the time recording is made easy for the employees, so it is easy and fast to drop off time consumption via web and without manual handling of delays and failures to follow.
If you have additional wishes in connection with your workflow, we can quickly correct Web solution (and possibly. NAV) for this purpose, so the total solution matches your particular wishes.
Please contact us if you want to hear more about VisionTime:
Contact us