Time tracking made simple and smart!
Although it is complex to manage different agreements, calculating overtime, mileage, handle guard call, vacation planning, clock in/clock-out registration, etc., then it is essential that it is simple for employees to register time consumption.
With VisionTIME, there is the thought of you as an employee, who must be able to easily deliver your time spent, and the Finance Department, which must use time registrations to advanced salary processing in relation to different agreements. And of course there are integration of economy system, so it's all done automatically.
VisionTIME is for businesses that want an easy time tracking in a sleek and intuitive design-on a modern platform, fully integrated to the ERP system, such as Microsoft Dynamics NAV, and available for employees where your employees are: via the web, iPhone/Android, tablet PC and/or iPads.
"Simplicity" and the availability of the user of the solution is a must when you have to have colleagues to spend time to register time spent on their tasks and projects, so that the user's experience with the use of the solution is in focus:

When you have many and changing work tasks in different projects, one will typically choose the fair registration-and, of course, also via your smartphone (Iphone or Android):
-also via mobile: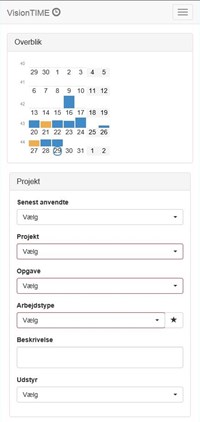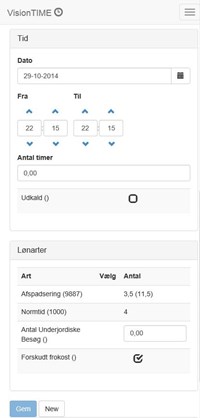 Together with time recording, you can also register:
The use of vehicles for the execution of the task
Driving company integrated Google Maps
Holiday wishes
Timesheets
On-call scheduling and call including
Time taken for your colleagues
Flextime, time off, sick/vacation absence
Clock-in/gåtider
and much else.
 All fully integrated to the economy-and payroll system, avoiding manual processing, and it's all ready for lønkørslen in the Finance Department.
Should you have specific requirements, we are happy to meet your wishes and needs, since the solution is developed on a modern Web platform and of course gives the opportunity for development of customer specific requirements.
Contact us if you want to access a free demo of VisionTime.
Contact us