Receive and send electronic OIOUBL-invoices
VisionOIO is an additional module for the reception and handling of electronic invoices, suppliers are sending to Dynamics NAV.
VisionOIO handles all electronic invoice standards to the public - OIOXML, OIOUBL and UTS attachments, and standard Dynamics NAV (2015 and later) handles all formats in relation to requirements set by the digital agency (NES5 & BilSim) . VisionOIO can be used for all VANS-suppliers, however, it is a requirement that OIO-files can be delivered to a named folder with the costumer.
Below is the document map (invoice register) illustrated. Files arrives here and it is from here you can open each document:

From the docs list, you can open each document and simultaneously see the corresponding invoices directly in the NAV. It is here they are handled, vendor created, purchase invoice created, and forwarded for approval.
Below is OIO-document illustrated – with accompanying invoice: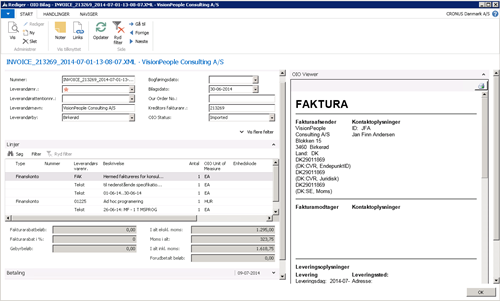 Both from the list and from the annex, it is possible to create document as invoice (standard purchase invoice in NAV) as well as the automatic creation of supplier, if this does not exist in the system. The creation of supplier is done on the basis of a vendor template, which will be set in the "OIO setup".
With one touch, it creates the respective suppliers, there does not exist, as well as the documents transferred to the purchase invoice.
Please contact us if you want to hear more about how we handle the billing from the public and loads the OIOUBL-invoices in Dynamics NAV
Contact us