Invoice approval via web and/or mobile
More and more companies optimize the purchase flow and implement purchase orders and/or requisitions in order to ensure that received purchase invoices are correct to the agreed discount / price etc. This requires a simple invoice approval solution.
It is possible to send your invoices for approval via a Web user interface, where the user can use a PC, a tablet or mobile phone, just as long as there is access to the Internet.
Benefits of Web-based invoice approval with VisionApproval:
Approval from web or mobile phone - the solution can be used by employees who are not using Dynamics NAV
Can be used from PC, tablet and mobile phone – you only need an internet access
Whether you are responsible for one or more departments, you can:

Save hours of work with respect to invoices
Reduce the cost of printing and handling of invoices

To be more productive and get faster approval flow on a daily basis
To simplify the process of simple solution that does not require extensive knowledge
To ensure that data is protected in all workflow steps
Electronic web approval of invoices with full power of Procurement Manager, then approved invoices automatically must be approved by one's superiors, if you do not have the full power to the amount.
Email notifications - Each user receives an e-mail message when there are invoices awaiting for approval
Shift of approver in the approval process is possible – The system immediately sends the invoice to the relevant approver
Comment to the invoice. By approval of the invoice, you can attach a comment to the invoice
Posting - all approved invoices are downloaded into an invoice approval journal in the accounts, after which they are posted.
Web Invoice Approval: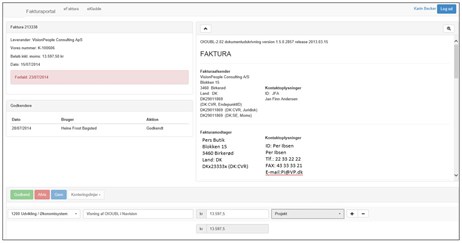 Contact us