A unique Business Management Solution for the Maritme Industry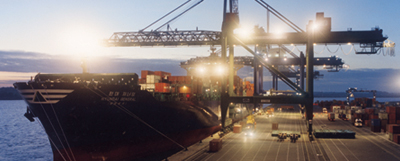 Sold and implemented world wide by ShipCentric Certified Partners
VISIONPEOPLE Consulting offers a fully integrated business management solution designed to support the business processes of a ship supplier; "Dynamic Ship Supplier".
Dynamic Ship Supplier integrates financial management, inventory management, vessel management, customer relationship management and electronic commerce, in one solution. The system is tailored specifically for ship suppliers allowing them to experience gains in efficiency, agility, and reduce the cost of doing business. Our solution is a Microsoft certified vertical for Microsoft Dynamics NAV.
Dynamic Ship Supplier introduces an integrated environment, industry specific intelligence, and decision making tools that you won't find anywhere else.
Designed specifically to meet the requirements of suppliers in the maritime industry, Dynamic Ship Supplier comes pre-integrated to Lloyds Fairplay and leading maritime e-commerce platforms for Ship Suppliers such as MTS, Sea Supplier and ShipServ.
Since the system is completely integrated with Lloyds, it can automatically update information pertaining to owners, managers, operators and other vessel related information.
Dynamic Ship Supplier is MTML compliant, the maritime standard for electronic trading. Cross reference technology makes it possible for our customers to store their items using a combination of numbering schemes. This allows system users to employ their own item numbers, IMPA numbers, and ISSA numbers.

Key Benefits:
• Increase productivity by implementing a highly productive work environment customized to support the business process requirements of Ship Suppliers
• Improve your efficiency and market reach with a standardised MTML (maritime specific) e-commerce interface that will link you to your customers
• Save time & money
• Track vessel and customer-related information
• Sharpen your competitive edge
• Get financial reports and an overview on ongoing projects, resources and revenues
• Access to data management tools for Ship Supply
• Manage service contracts and related transactions
• Multiple location support
• Multiple language, currency, and unit of measure capabilities.
• Access to Ship relationship management, Ship register and Ship history. This allows you to locate vessels arriving in your port or those that are due to survey in a given time for instance
• Access to a Worldwide support network
Feel free to contact us for a live or web demonstration of Dynamic Ship Supplier.