Role Centers
Microsoft Dynamics NAV 2009 is based on each employee's role within the company - and makes people the best at their jobs
Based on studies of how people work, Microsoft Dynamics NAV 2009 gives an intuitive work environment that looks and feels like familiar Microsoft products.
The breakthrough user experience includes access to custom views and business processes via role centers that give employees the information and tools they need for their specific tasks:
Microsoft Dynamics NAV 2009 offers 21 Role Centers that are optimized for various important staff functions so employees can organize and prioritize tasks, thereby increasing productivity and efficiency.
Provide employees with one solution that fits individual needs with a comprehensive overview of their work and tasks and the possibility to adjust menus to reflect their personal work style.
Employees can use their favorite Microsoft Office programs - including Microsoft Office Outlook, Microsoft Office Excel, Microsoft Office, Word, etc. - without having to leave their role centers or switch between multiple programs.
Minimize training costs and increase productivity immediately upon deployment, with software that looks and works like other familiar Microsoft products and technologies.
Easily adjust Role Centers to provide access to role specific tasks, that are unique to your business or industry.
Role Centers for Microsoft Dynamics NAV 2009 provides employees with a comprehensive overview of the information and tasks that are relevant to their work.
Role Center for accounting manager is shown here: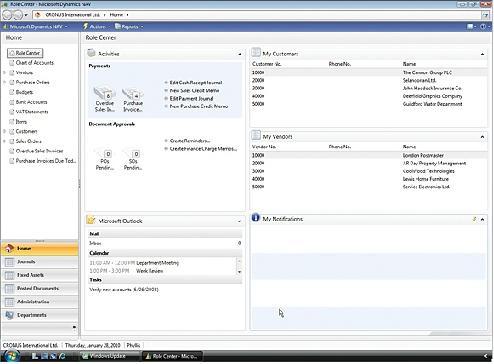 provides accounting manager a single view of the tasks, informations and reports they need:
•Accounts, budget information, lists of bank accounts and VAT returns.
•Customer, vendor and product listings.
•Sales and purchase orders approved and pending.
•Overdue sales invoices and sales credit memos.
•Purchase invoices for payment and memos of interest.
•Overview of receipts and disbursements.
•Overview of accounting documents.
You are welcome to contact VisionPeople and arrange a meeting where we can introduce Microsoft Dynamics NAV 2009 and VisionPeople's integration solutions in relation to your specific business needs>>