Analysis, communication and collaboration
Microsoft Dynamics NAV 2009 helps you to manage your business and ensure knowledge sharing across the organization
Microsoft Dynamics NAV 2009 allows your organization to work as a team and make the right decisions by connecting people, information and processes:
Get easy access and analyse real-time data about every aspect of your operations, including individual transactions, customized key performance indicators, trends and growth opportunities.
Provide employees with reporting and business intelligence features that reduce the number of ad-hoc queries to the IT department for reports and information.
Automatically generate custom reports, using Report Designer, an ad-hoc query tool that is part of Microsoft SQL Server Reporting Services, or export to familiar applications for further analysis and graphical presentation.
Increase business insight and value of corporate data even more, by combining Microsoft Dynamics NAV 2009 with SQL Server Reporting Services and SQL Server Analysis Services.
Unleash the powerful communication solutions and collaborate effectively and optimize your technology investments through integration with Microsoft Office system, including Excel, Windows Sharepoint Services and Windows Sharepoint Server.
Provide online access to data in real time, reports and collaboration tools, for example from Windows SharePoint Services, without having to create users and train them to use Microsoft Dynamics NAV 2009.

The following screen shows an example of reporting from Microsoft Dynamics NAV 2009: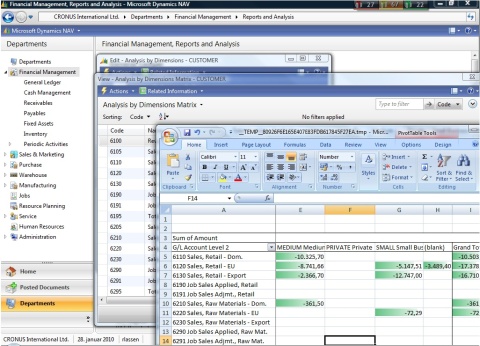 Tight integration with Microsoft Office programs makes it easy to export Microsoft Dynamics NAV data to Excel for analysis and reporting purposes.
Contact VisionPeople if you want to hear more about Microsoft Dynamics NAV 2009 and our reporting solutions related>>