The world's best business solution
More than 1.000.000 users can´t be wrong! With Microsoft Dynamics NAV you can exploit the full potential of your company. Our solutions are easy to adjust and integrate within your entire organization.
Microsoft Dynamics NAV (as Navision is called after March 2006) helps your growing midsize company integrate financial, manufacturing, distribution, customer relationship management, and e-commerce data. A complete and customizable business management solution, Microsoft Dynamics NAV is ideal for companies with unique business processes and specialized needs.
With Microsoft Dynamics NAV, you can synchronize sales, marketing, and ordering with Microsoft Office productivity tools, such as Microsoft Outlook. Contact, task, meeting, and e-mail information appear directly within the Microsoft Dynamics NAV screen.
In addition, real-time information about all your contacts can help you identify key accounts and target marketing efforts.
Microsoft Dynamics NAV helps small and midsize businesses streamline distribution processes and improve inventory management and warehouse efficiency. Key capabilities include item tracking, multiple location logistics, bills of materials, transfers, item substitutions, and warehouse management ranging from internal picking to shipping and delivery.
Connect business processes across technologies
By using the XML document exchange feature, Commerce Gateway, Microsoft Dynamics NAV streamlines processes, helping you communicate with your supply chain partners more quickly and effectively, even if they are using a different system. In addition, it uses extensible business reporting language (XBRL) to export financial reports across all software and technologies to streamline the exchange of financial data.
Ease of use
Microsoft Dynamics NAV is both easy to use and simple to maintain. Its interface, which mirrors that of familiar Microsoft Office applications, requires little to no training and gives employees simultaneous access to data from a single screen. Furthermore, you can streamline workflow by allowing employees, customers, vendors, and business partners to interact with your system through personalized Web portals. Or you can take advantage of XML and XBRL to communicate with other entities across different technologies.
Below is an example of the roletailored userinterface in Microsoft Dynamics NAV 2009: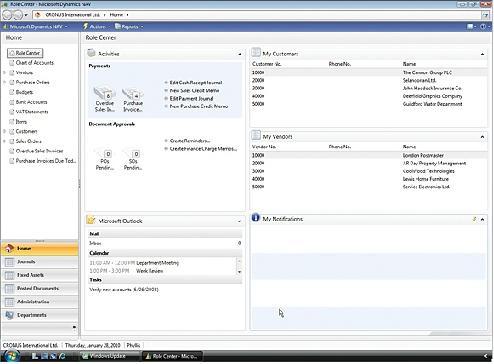 Read more about the new Microsoft Dynamics NAV 2009, by clicking on the links below:



You are also welcome to contact VisionPeople and arrange a meeting where we can introduce Microsoft Dynamics NAV 2009 and VisionPeople's integration solutions in relation to your specific business needs.
Contact VisionPeople here and get access to expert knowledge of Microsoft Dynamics NAV 2009>>