The Board's access to follow the company's development!
As a member of the company's Board of Directors you are of course also interested in following the company's development at an overall level.
The following Board of Directors cockpit provides the necessary information-cockpit and figures provide a snapshot of the company's development, measured at selected key figures and graphs - which of course can be adapted to the specific wishes the Board of Directors may wish: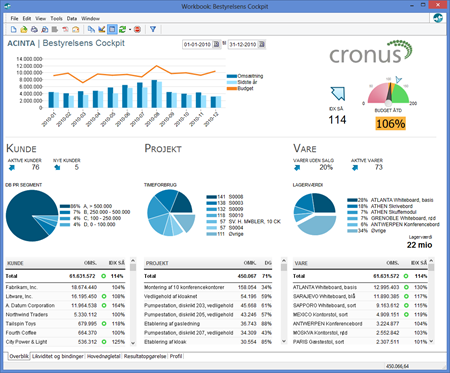 By giving the Board the necessary insight, the Board can better live up to its responsibility of the Board of Directors of the company
The figures are changed constantly in step with the transactions in Microsoft Dynamics NAV, and of course, there is the opportunity to "dive" in the figures and trends that, as members of the Executive Borad may wish to analyze in details, directly from the above screen shot. 
Please contact us if you want to hear more about what Acinta can help the Board with
Contact us